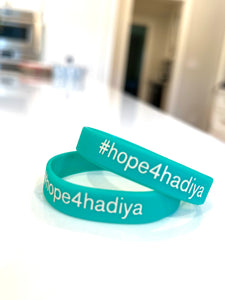 This band is in support of Hadiya Shafique. All proceeds will go towards a fund created for Hadiya's 5 year old son.  
Hadiya's Shafique is a loving daughter, caring sister, dedicated mother, loving wife, and sincere friend. If you have had the pleasure of meeting Hadiya even once in your life, you would agree her smile is her lasting impression. Hadiya was diagnosed with a high-risk cancer: B-cell Acute Lymphoblastic Leukemia (ALL) in March 2021 and was admitted to Memorial Sloan Kettering to begin chemotherapy treatment and clinical trials. Hadiya has completed two Bone Marrow Transplants and a Chimeric Antigen Receptor T-cell (CAR-T-cell). Unfortunately, she has relapsed multiple times.  She had taken time away from her full-time job to undergo a year and half of intense treatment. This fund was created to alleviate the cost of living, medical expenses, and much more. Ironically, Hadiya's career was in cancer research. As Hadiya's health has taken a turn, we humbly ask for support for her five year old son, Sameer and her husband Bilal who has been tirelessly supporting her throughout. Her relatives and friends aim to take some financial burden off her family's shoulders. Her strength, faith, and support system has pushed her through this incredibly difficult journey.
With a heavy heart, we regret to inform you that Hadiya passed on October 23rd, 2022.
#hope4hadiya