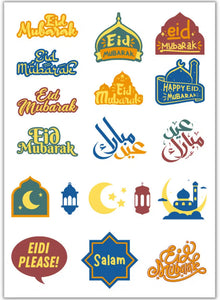 Celebrate your Eid with style and fun using our colourful Eid Mubarak tattoo sheet!
 This tattoo sheet comes with 18x colourful tattoos in 5 different designs.
Directions: 
 1. Cut out and place the tattoo flat down on your wrist.
 2. Rub the tattoo onto your skin and hold a wet cloth against it for about 30 seconds.
 3. Wait 20 seconds and peel the corner of the tattoo.
 4. Once the tattoo has completely stuck onto your skin, remove the card.